To learn more about GALEN'S LECTURES
please click here.



Read the first 3 chapters



The KINDLE edition is now available.
Please click here.



Praise for
GALEN'S LECTURES:
"It is challenging to combine a novel with 'lectures' and Albert does so ingeniously in GALEN'S LECTURES. It is certainly very readable."

-- Oliver Sacks, M.D., Author of Awakenings, The Man Who Mistook His Wife for a Hat and Uncle Tungsten.
The chemistry within the lectures is beautifully done. The chemistry outside of the lectures is excellent. The lectures and the remainder of the narrative are in a symbiotic relationship. Galen is a well worked through and believable character.

-- Dr. Roald Hoffmann, Frank H. T. Rhodes Professor of Humane Letters at Cornell University and 1981 Nobel Laureate.
"A well crafted story for those with an interest in chemistry. A unique and recommended narrative."

-- Carol Volk, Midwest Book Review
"A compelling story. I really enjoyed it very much."

-- Jeffrey Robbins, Editor, Perseus Books.
"I enjoyed the suspense, right from the beginning."

-- Jacquie Roach, Head of Reference, Tredyffrin Library, Wayne, PA.
---
PAPERTAPE CALCULATOR 3.1 Home Page.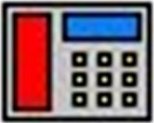 Please click here to download
PAPERTAPE CALCULATOR 3.1
NEW GRAPHICS WINDOW
EQUATION SOLVING CAPABILITY.
CLIENT TIMER FUNCTIONALITY
Present SHAREWARE version available from

2/22/2013.
NOTE -- If you find that the software does not function on your older (pre-Windows XP) computer please click here to download and install Microsoft's FREE Windows upgrade software called the ".NET framework 3.5" (or later versions) to allow this program to function on your computer.
(* Explanation below).
Papertape Calculator 3.1 is a full function calculator that records all entries to a virtual paper tape (text file). It simplifies checking of one's work and allows multiple results to be displayed simultaneously. It Includes equation solving capability and user defined functionality as well as binary, octal, hexadecimal, time arithmetic, complex numbers and importation and calculation of external data sets that include curve fits and statistics. Business functions include interest, annuity and loan calculations. Math functions include trigonometry, statistics, regression analysis, quadratic and cubic equations. The software also includes conversion factors and area under curve calculations (numerical integration). Ten memory locations store numbers and text together. Papertape Calculator can now solve for molecular wieghts. "CLIENT TIMER" functionality now available. A graphics window displays XY scatter plots, bar graphs, pie charts and functions of X for selected calculator functionality.
Register
PAPERTAPE CALCULATOR 3.1 with
PayPal
New features of Papertape Calculator 3.1
Algebraic solutions for both x and y can now be determined for equations wider than the display window.
New features of Papertape Calculator 3.0
Graphics functionality in the new graphics window. Bar graphs, pie charts, XY scatter plots and line graphs of mathematical functions with display of shaded area between two selected boundaries available. This functionality is integrated into several calculator functions.
Unlimited entries now available for cash flow calculations.
New features of Papertape Calculator 2.61
Bug fix for area under curve calculation.
New features of Papertape Calculator 2.6
Complex number calculations now available. Seamless association with real number calculations.
Quadratic and cubic equation solutions now include complex roots.
Further improvements in the "given Y solve for X" equation solving functionality. Optional user selectable initial choice of "X" now available.
Memory locations can now be used to insert not only numbers but the variables "X" and "Y" and equation fragments into a user defined function.
Random letters problem fixed.
New features of Papertape Calculator 2.5
Molecular weight calculations now available.
Further refinements to equation solver that can solve for 'x', in a function of 'x', given a value of 'y.'
Cash Flow calculations now repeatable by entering zero for discount rate or cash flow.
More thorough corrections in division by zero problem.
Ideal Gas Law equation calculation repaired.
Protection from taking a non-integer root of a negative number.
Curve fit calculation for user defined function repaired.
'Exit and Save Memory' menu item now saves the active papertape to the archive.
Complex roots of cubic equation corrected.
New features of Papertape Calculator 2.4 include:
Functionality solving for 'x', in a function of 'x', given a value of 'y' has been greatly improved.
Days between dates functionality now converts number of days to years, months and days.
Inactive "area under user defined curve" function has been repaired.
Magnitude limit on binary to hexadecimal conversion lifted.
User selected options for trigonmetric functions, conversions and constants will no longer be changed by other functionality. Statistics (stat.) selection will be changed by 'Clear' function only.
Conversion between Kelvins and degree Centigrade(Celsius) is now available.
Exponential and Power equations now available for curve fits.
New features of Papertape Calculator 2.31 include:
30 day trial available to ALL users, new and past.
"Division by zero" protection is unreliable in versions 2.2 and 2.3. Corrected in version 2.31.
New features of Papertape Calculator 2.3 include:
Old memory file is now archived when new memory file is created.
Time stamp option now available for "Post Label" function. Also records elapsed time between consecutive time stamps.
Problem with hexadecimal arithmetic is now repaired.
New features of Papertape Calculator 2.2 include:
Solves for X in a function of X, given value of Y.
Calculations involving time (hours:minutes:seconds) now available from "dec" button.
Currency calculations have been substantially improved. Curency values are now labelled with dollar (or other) signs, commas and two decimal places on the Papertape and in memory locations. Negative currency values are represented by parentheses. "Currency" mode is accessed when two decimal places is chosen for output to the Papertape.
Values in the ten memory locations can now be accessed when designing user defined functions. ("mX" entry. X is a digit "0" through "9".)
Example data sets for use with calculator functionality now included in software package.
Improvements in Papertape Calculator included in earlier versions include:
Calculation of net present value of cash flow.
Calculation of bond prices.
Calculation of four versions of depreciation.
Added calandar functions include; the determination of the number of days between dates; the date determined from the number of future days; the day of the week from the date and the number of days gone in the year.
Matrix algebra.
Normalization factor, with user defined exponent, added to determination of curve fits.
Trigonometric functions, Conversions and Constants now more accessible from a menu on the "equations" menu.
Prime factorization of integers available.
All default files saved to directory of executable files. (See readme.)
Limits on number of data points enterable for all functions have been lifted.
Memory demands on computer have been reduced.
Scientific notation excluded from all business calculations.
Reload of memory for continuing equations repaired.
User defined functions can be entered and solved. Instead of inputing an experession with keystrokes or button clicking, following input of a colon (:), a mathematical expression can be typed in that will be solved all at once. If the expression contains the variables 'x' or 'y' at any location in the equation, and any number of times, the calculator will prompt the user for values of these variables and solve the equation. This action is repeatable.
External data sets can be input to be solved by the available calculator functionality.
Curve fits of user defined or stored functions can be made to external data sets input to the calculator.
Areas under sections of a bell curve, parabola or user defined function can be determined by numerical integration.
Binary, octal and hexadecimal arithmetic functions are color coded for easier use.
Archive is time stamped when calculator is opened to create a clearer record of calculator usage.
Keyboard entry for most functionality.
Multi-function calculator that allows for running calculations.
Papertape records all data entries and operations as well as multiple results in calculations. Text entry to papertape is also possible. All data entries and operations are archived.
Data entered can be saved for later use.
Displayed papertape can be saved for user's records or recalled to calculator.
Individual numerical entries on the papertape or archive can be double clicked to the display for further use in calculations.
Parenthesis function allow for user control of order of operation execution.
Compound interest calculations.
Simplified linear least squares regression analysis.
Simplified multiple regression analysis which allows use of dummy variable.
Trigonometric functions.
Conversion calculations.
Constants.
10 memory locations. Window displays memory contents.
Currency format for basic functions.
Detailed instructions and documentation.
Constant key functionality available.
Percent calculations.
Calculation of y values on lines and planes.
Quadratic and Cubic equations.
Bessel Functions.
Loan (home mortgage) and amortization calculations.
Annuity calculations.
Statistics for grouped data.
Area under a section of a parabola or normal "bell" curve can be calculated.
Calculation of Ideal Gas Law now available.
Arithmetic using Binary, Octal and Hexadecimal bases.